Co-op Revenue - $243.2 billion - International Summit of Cooperatives 2016 - Quebec
The International Summit of Cooperatives convened in Quebec in 2016. The general message of the conference was that cooperatives are everywhere and one only needs to raise awareness for this idea to spread. That seems to be happening as evidenced by the attendance at this conference - 3000 people from 117+ countries according to the International Co-operative Alliance (ICA.coop) one of the sponsors of #ISCOOP2016.
I have been to many cooperative conferences and events, but this one was very different. From the facility to the attendees, the event had an air of style and conform that went beyond attire. I was swimming in a sea of 70-80% middle-aged men in black suits as far as the eye could see. There were also a few groups I saw that were wearing indigenous dress from India, Nepal, Chile, and Congo. Quebec is a mixture of modern and old culture. There were women in authentic Breton garb serving food in the restaurant we visited for lunch, in Old Quebec City, but they were not represented at the coop summit.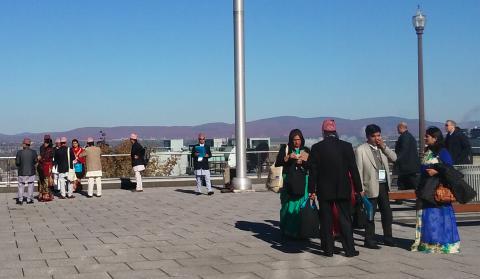 The largest sponsors of the Summit were the Canadian Government, Canada Economic Development, ICA International Co-operative Alliance and DesJardins. You can see a full listing of all the cooperative sponsors for the event. The attendees were mostly members of Agriculture and Financial coops, both small and large. When I say large, I am talking thousands of members. The point was brought up and highlighted that the International Co-operative Alliance represents close to one billion individual members. Statistics are calculated using the Alliance's formula based on active subscriptions. The ICA maintains the internationally recognised definition of a co-operative in the Statement on the Co-operative Identity and they represent 272 co-operative federations and organizations in 94 countries as of January 2014. The National Cooperative Bank released its annual report in 2015, listing the nation's top 100 revenue-earning cooperative businesses. These 100 businesses posted revenue of approximately $243.2 billion.
A dominant presence by DesJardins, with over 6 million members, and the Boston Consulting Group (BCG). In my opinion, the BCG message was depressing and the same old Capitalistic message cloaked in a message of "growth" suggesting that "you must grow in order to prosper!" Luckily some cooperative panelists responded with how irresponsible it is to grow for growth sake. A member of DesJardins told me that he personally thinks the coop has gotten too big and we had a great talk about how empathy training should be available to larger entities. Marc Thomas, a DesJardins member, talked about helping people and how the DesJardins cooperative has made some positive changes for him and his community. They are much more willing to lend to smaller cooperatives and they have a host of connections to nurture a small business in start up phases. They play a role similar to a credit union on a much larger scale and they also have deep ties in the community and a network of cooperatives to connect new ideas to funding opportunities.
According to Howard Brodsky there are 50 cooperatives larger than Facebook. Brodsky is Co-Founder, Chairman, and Chief Executive Officer of CCA Global Partner. He is responsible for creating a cooperative retail powerhouse in the marketplace.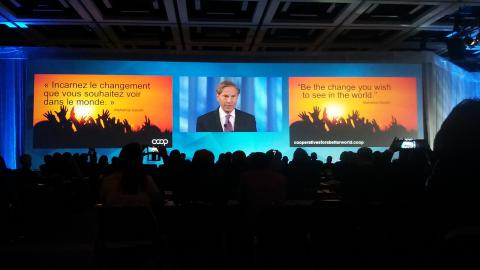 His message was most similar to all the coop conferences I had attended, yet he was much more vocal about how expansive the coop movement is - we are large and we are everywhere. In my opinion, Howard gets it and understands how empathy and caring figure into the movement. He touched on how this simply will not work if we are not honest and caring in our work. He spoke about how important "Stories" are and how they create bonds. The International Co-op Alliance (ica.coop) has built a wonderful way to share our narratives in this digital era - http://stories.coop
Trebor Scholz, a professor at the New School in NYC, and Nathan Schneider, a professor at University of Colorado Boulder, were each on a panel. Nathan's panel was on Multi Sector Activity and he talked about Platform Cooperativism as a way to bring cooperative communities together and how important it is to own the utilities and services we depend on. Trebor on the next panel framed platform coop as a movement and points to the recently published book "Ours to Hack and to Own" as the handbook to get involved in the movement. Copies of book are available from OR Books.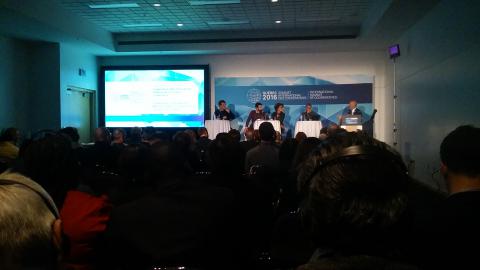 Both panels were lively and got a good response of people talking amongst each other after they ended. Attendees I talked to during the conference were diverse. People from Kenya and the Congo seemed to be the only ones shocked at the implications when I told them about free software. They had never heard of it. People from India that I met either said they knew about it or that they used it in their work. Other people from afar seemed bored and made excuses to not hear about it.
Translation for the speakers and panelists was stellar. No time lag at all and the team was professional and consistent. This did not carry over into the main event participants and attendees. The language barriers seemed to keep people from mingling outside of their party of friends. They sat in groups at the meals and at the sessions. The lunch/dinner seating was round table, with place settings ala extra forks etc. very convenient for conversations. Meals were also used as a venue for a sort of Keynote delivery that happened on several giant screens while the appetizers were served.
The event was full of Pros and positive energy, there were only a few minor Cons:
1. A lot of people in the crowd were unaware of free software, and almost no one used encryption.
2. Most panels were all male - even ones discussing diversity.
3. Some financial coops place most emphasis on growing, as if growth is the only measure of success and value.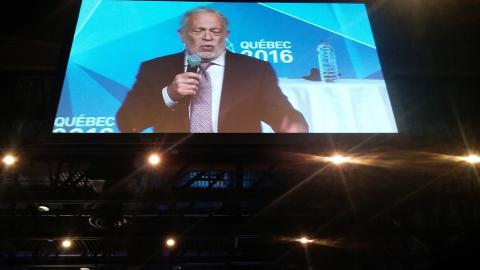 Robert Reich got a standing ovation for his keynote with a message that coops are an important part of the business landscape. He spent most of his talk telling an anecdotal touchy feely story with the point that we all need to get along. He seems to be a progressive at times, but he still operates on a lesser of two evils mentality in a two party system - I ask, why won't he support a third party if he is in agreement with most of their platforms?
I spoke to many people throughout the three day event about what Agaric is and what we do. I also talked about Free Software and how it impacts cooperatives and their goals. Some were not aware of free software and the vital role it will play in the future success of cooperatives maintaining autonomy and privacy. I also spoke about Platform Cooperativism and Drutopia as a platform concept. Anyone seeking more information can sign up at the Drutopia.org website to be invited to discussions and have a voice in the process of building a platform cooperative from the ground up.
So, things are looking bright for cooperatives in the future. The cooperative branding and marketing needs building, and the network needs to keep expanding and cross-pollinating. The tireless work and dedication of small groups like the ICA is what makes this all happen. Coops do not need to be large, they need to be nimble and they need to be flexible. With apps like BuyCott it will be much easier to purchase responsibly, buy from cooperatives and support ethical companies. I just got the app and am happily surprised to find out how many dedicated cooperative people there are in the world shopping responsibly already! We can each do our part to make the network stronger and to bring the cooperative movements closer together. How would you bring something cooperative to your community? Even a small local event at your neighborhood coffee shop or a blog post or a Tweet can do a lot to raise the level of awareness of how strong we are together!
The results are in:
Typically an awesome event will end and as time passes, there will be little to no follow-up or tangible results that are published. You wonder if that great project you heard about is flourishing or forgotten. You can see the results of the workshops in Quebec in 2016 and rejoice in the knowledge that we are on our way to autonomy.
Our friend Chuck Bordman has written an excellent blog covering this conference here: Coopmatters.com