On a cold December night we met at the Industry Lab to celebrate the Worc'n group and our membership in the cooperatives we belong to. The crowd was very energetic and several small groups were conversing on different topics throughout the evening. A holiday party is a time to see old friends and make new friends.
A cooperative is a structure to make new connections and share ideas. What better mix for a party. 2014 ended on a high note as the cooperative movement gains ground in Cambridge, MA. Worc'n (the Worker-Owned and Run Cooperative Network of Greater Boston) has been around for years and has an impressive number of cooperatives and owner-workers among their members. This party was sort of a merging of groups in the sense that Worc'n has been around for a long time, growing a membership and creating value.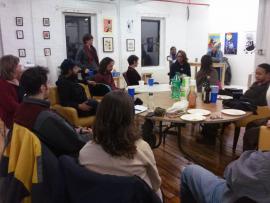 The Boston/Cambridge Worker-ownership Meetup just started a few months ago, but through the network of local cooperatives, the word spread quickly and people have been expressing their happiness that there are now some meetngs to attend and new people to network with. The party was a Pot Luck and everyone brought something to share. There were homemade cookies, cakes and pie. We also were fortunate to have Monica Leitner-Laserna of La Sanghita Cafe attend the party with some delicious vegan foods from her newly formed cooperative restaurant in East Boston.
La Sanghita Cafe is Boston's only cooperative restaurant and they have a great vegan menu. Located just outside Maverick Square in East Boston, the restaurant is open daily for lunch and Wednesday through Saturday they offer a dinner menu. The menu is filled with sweet and savory items and the space is so comfortable and cozy. We look forward to having the coop members as guests at our monthly cooperative worker/owner meetup, to share the details on how it works to build a cooperative restaurant. Good food, good conversation and many engaging in discussion on topics involving cooperation, a wonderful evening was had by all. We should do this more often.