Agaric 2018 Year in Review - Expanding the Open Web, Building the Solidarity Economy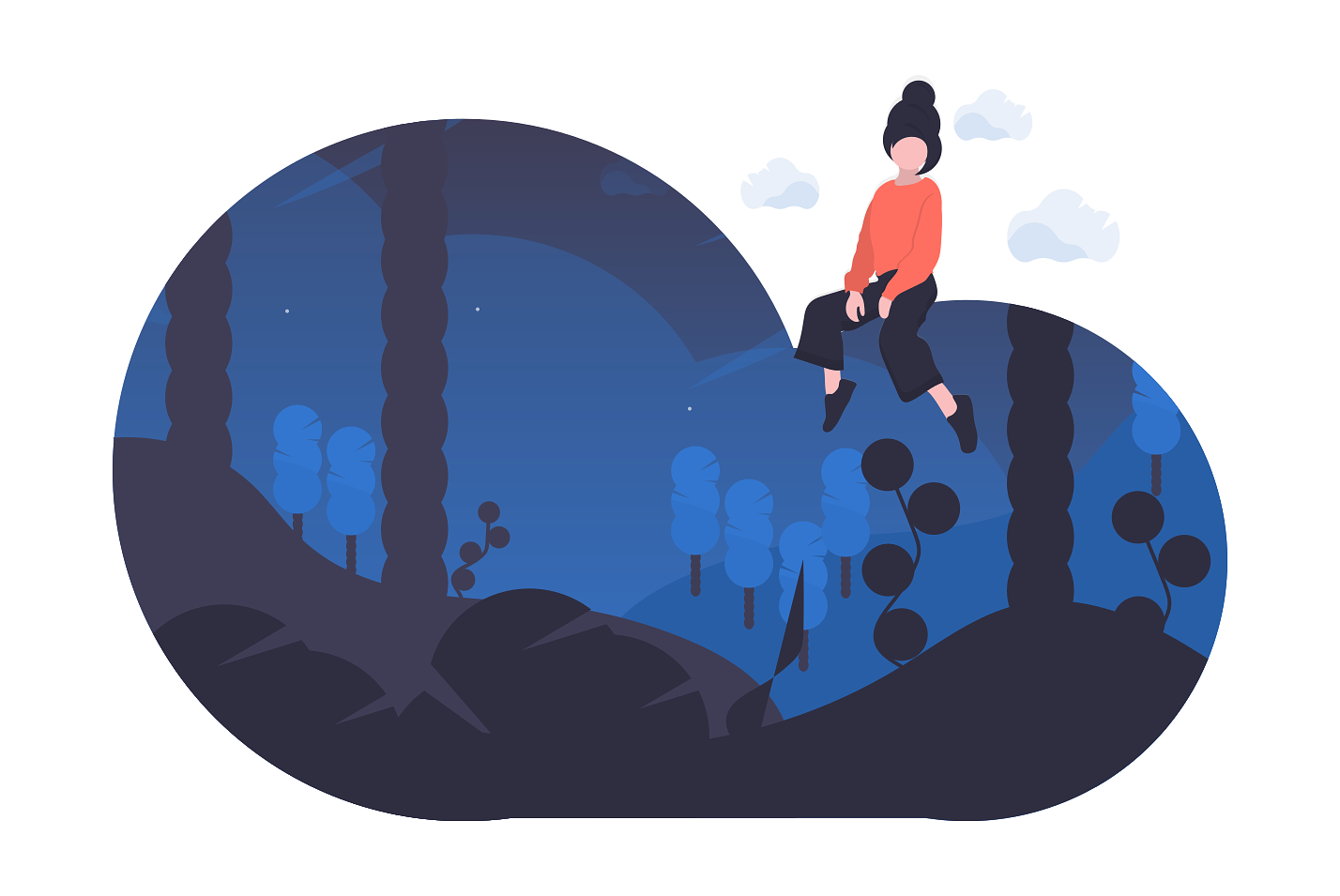 As it was for much of the world, 2018 was a combination of extremes for Agaric and the free and open web. Happily, we expanded our team, launched new sites, and empowered our clients through libre software. Unhappily, many of us and our communities endured health issues, political instability, and the effects of climate change.
For the open web, we disappointedly saw the United States officially end Net Neutrality while we excitedly watched the European Union begin enforcing comprehensive privacy laws with its General Data Protection Regulation. We were disgusted by tech giants like Facebook and Palantir diverting and deflecting from the abuses they carry out, but we were also inspired by workers at companies like Amazon and Google forcing their bosses to do better.
In looking back, we celebrate the victories and learn from the challenges—with our eyes set on serving our clients better, expanding the open web, and building an economy based on solidarity rather than exploitation.
To that end, here are the highlights of our work from last year and our intentions for the new year.
Keeping Drupal Relevant to the Grassroots
Drupal continues to be the go to content management system we use to build websites. Recently much has been said about Drupal's growing adoption in the enterprise world and what it means for grassroots organizations.
We believe it's the grassroots that made Drupal what it is today and continue to advocate and contribute to the Drupal ecosystem to keep it that way. Drupal 8 adoption is still lukewarm  due mostly to the changes in the way developers can write the code and nothing to do with the robust and stable platform it has always been. To get those adoption rates up, Drupal must stay relevant to small-budget, cause-driven groups.
For that reason we are active participants in Drutopia, an initiative to get the power of Drupal 8  into the hands of grassroots movements. We do this by building a distribution and Software as a Service platform for those groups. In 2018, we helped the project get to a beta release, launch a demo site and we launched three sites using the distribution.
We also built a custom distribution for the National Institute for Children's Health Quality in partnership with the Drupal shop Chocolate Lily. In doing so, we not only helped them launch platforms for each of their learning communities, but also significantly advanced the way Drupal can share and manage configuration across sites. This ability to share website features is key for groups with small budgets wanting to share and benefit from one another's work.
To further the grassroots spirit of Drupal in general and Drutopia in particular, we also attended and facilitated sessions at the Nonprofit Summit at BADCamp, the Nonprofit Software Development Summit and Design4Drupal. We're happy to say that this Drupal sub-community is alive and well, doing inspiring work.
2019 Intention: Kick off the Drutopia Software as a Service plan with a public membership-drive.
Providing Helpful Analytics In Your Website
A challenge we repeatedly heard from our clients and others in nonprofits and the cooperative world was the lack of time and resources to make meaningful use of site analytics. One way to help people act in more data-driven ways is to pull out key metrics and put them in an easy to find place - the website itself.
For Teachers with Guts, an online teacher cohort, we built custom reports on member activity to help them learn what discussions are active and what resources are most downloaded.
For Portside, an independent news site for the left, we started displaying pageviews on articles and site traffic info on the main administrative page for moderators to assess the traction of their stories.
In fact, we found this so helpful we did the same for ourselves, now easily seeing whose blog posts are most popular and gaining bragging rights accordingly.
2019 Intention: Help even more groups make use of analytics by bringing them into their websites.
Making Online Donations Simple and Cost Effective
There's a dizzying array of online donation platforms groups can turn to, but many are expensive and don't integrate with one's website. So this year we launched the Give module, a free and open source project for Drupal websites to easily build online donation forms. All you need is a Stripe account to get up and running. The module also provides helpful reporting and automated thank you messages.
We have installed the Give module on three of our clients' sites and we are pleased with the results. One client in particular raised the most they ever have before!
2019 Intention: Move the Give module from Beta to a full release.
Training Up Ourselves and Others in Free Software
We are strong believers in free software and breaking down the tech expert/passive consumer dichotomy. Each of us has a creative drive and should be empowered to use and customize the tools in our lives as we see fit.
To that end, we lead trainings and sessions across the globe to empower people with free software. Micky hosted monthly security webinars and traveled to speak to cooperatives in Mexico City last fall. In Boston, Mauricio taught Drupal users how to customize the look of pages with TWIG templates. In Berkeley, Ben and Mauricio trained people on migrating their sites to Drupal 8, without using PHP code. David spoke at the Puebla, Mexico PHP User Group about Drupal. Chris presented at Libre Planet and Clayton helped prisoner support groups adopt NextCloud and Discourse for file sharing and internal communications.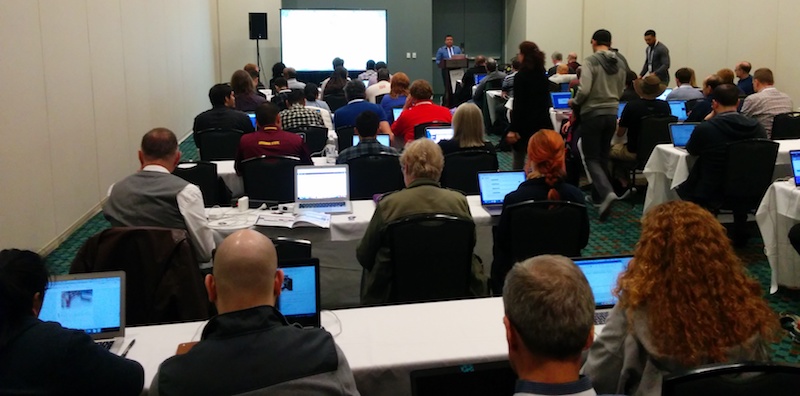 Mauricio led a session on migrating to Drupal 8 at DrupalCon, Design4Drupal and BADCamp this year.
In addition to teaching, we also learned a thing or two. Clayton expanded his design skills from books like Cadence and Slang and Refactoring UI. Mauricio and Chris deepened their knowledge of React with courses like the Complete React tutorial. David installed and configured Apache Solr for the first time. Micky learned more about the cultural barriers to entry that need to be discussed and changed.
2019 Intention: Train as many people as we can in migrating to Drupal 8 through sessions at the Nonprofit Technology Conference, DrupalCon Seattle and custom trainings.
Making Our Software and Communities More Inclusive and Diverse
Free software is only as strong as the people involved. We're at our best when we strive to better ourselves and our communities by un-learning toxic behavior and making the work of diversity and inclusivity front and center.
We're jubilant that our coop membership is majority people of color, hailing from three countries representing multiple genders and sexual orientations. This passion for diversity and equity carries over into the way we build software. Clayton helped the City of Cambridge connect with their most marginalized community members by making their online events and programs directory more helpful.  Micky works with UjimaBoston on projects that directly affect the Boston community; they recently launched the first democratic investment fund that can be utilized by many small business owners.
And while we're excited about what we have accomplished, we have much room for improvement. In 2019 we intend to dig in further to make our own workplace and communities more diverse and inclusive.
2019 Intention: Increase our support and participation in the Drupal Diversity & Inclusion initiative.
Strengthening the Solidarity Economy
The global wealth gap is the widest it has ever been. We see that disparity playing out in corrupted politics, precarious living conditions and the blind pursuit of profit at the expense of our climate and planet. At the same time, we see alternative ways of producing and distributing wealth gaining traction.
The solidarity economy is an alternative way of doing business in which democratic ownership, stewardship of the earth and solidarity between people supplants mainstream economic values.
As a worker-owned cooperative we both model that solidarity economy internally and also support others in this work. Our client Portside regularly publishes news on the solidarity economy and we helped them expand their audience in a time when Facebook and other social media platforms are making that even harder.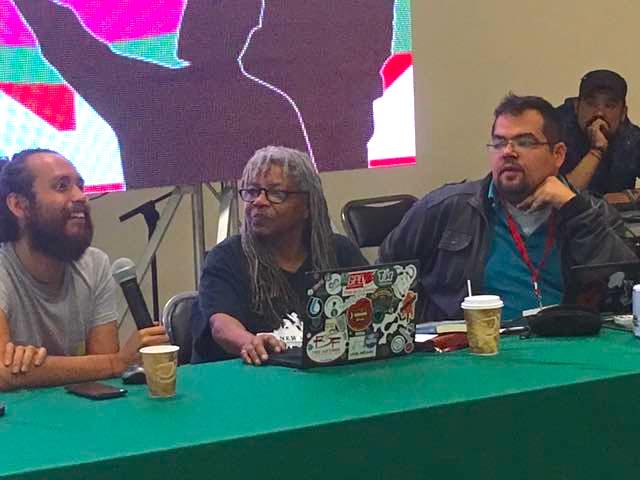 Micky spoke on the role of free software in the cooperative movement at the Workers Economy Encuentro.
We are active members of the US Federation of Worker-Owned Cooperatives and attended the federation's annual conference. From that conference we began deepening our relationships with other cooperatives, especially tech coops. In November, Micky went on a solidarity economy speaking tour of three cities in Mexico and hosted a workshop at the The 3rd Regional Workers Economy Encuentro in Mexico City. She then met with unions, cooperatives and other groups. Clayton networked with fellow coops at the Shared Ownership Summit in Boulder, Colorado. We also attended CommonBound, a conference to connect those of us building the solidarity economy. 
2019 Intention: Expand the coop movement by publishing a series of blog posts on the value of cooperatives, how to start one, how to convert an existing business to a coop and how to effectively run one.
2019: Intention as Resistance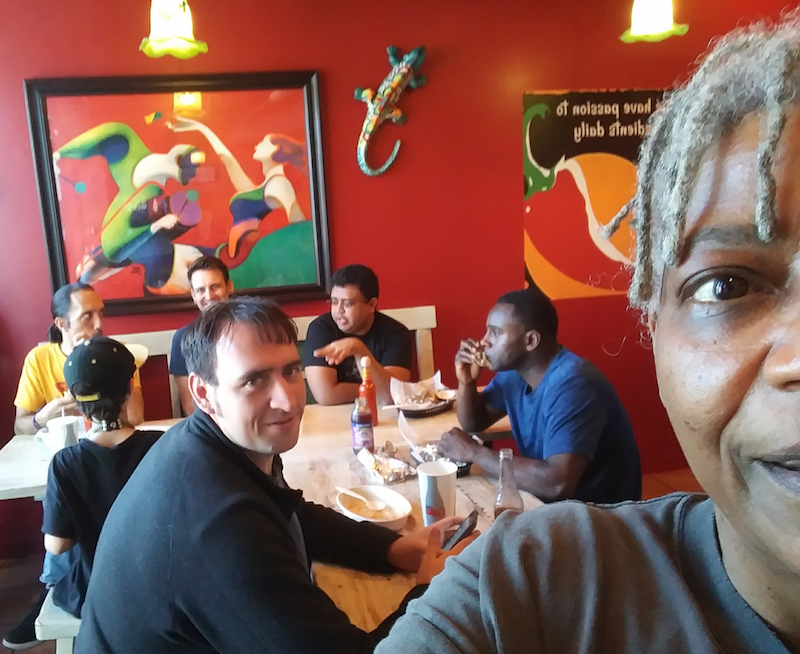 Some of the global Agaric team enjoying a rare in-person get together at Micky's favorite burrito place.
2018 was challenging on many fronts and we are already experiencing more of the same in 2019. The tech industry we are part of reflects so much of the abuse and corruption playing out in the world at large. However, we love what we were able to accomplish last year, showing technology can be built and used differently to preserve user freedom.
We could only accomplish what we did with the support and partnership of our clients and colleagues. To each one we are truly grateful. We rang in the new year by launching our new site at midnight EST. We could not think of a better way to show that overall, our intention for 2019 is to connect with others more. So, if you are a group looking to improve your online tools, a free software enthusiast inspired by the initiatives we are part of, or just curious to learn more about anything you read on the site, drop us a line. Together in the face of a power that attacks and divides we can build a different power, among one another, that heals and unites.