Trip to GLADCamp 2014 in Los Angeles
Just got back to Boston from GLADCamp, the Greater Los Angeles Drupal Camp, a free community three-day event and one of the best camps I have attended. The theme was "Drupal for Good" and it delivered from the opening keynote to the closing barn raising.
I was glad to present two sessions at this camp, which was organized by volunteers from the Greater Los Angeles Drupal community—whose user group boasts 5 to 10 events a month—such as Christefano Reyes and Lee Vodra of Exaltation of Larks and an extensive list of Drupal community members and participating sponsors.  The free conference took place on March 7th, 8th & 9th, 2014, at the Hilton Pasadena & Convention Center in Pasadena, California. This camp had a lot to offer in the way of sessions and was one of the best camps I have attended due to...
Sessions organized into logical tracks.
Transparency of finances and process.
High level of interaction between attendees and presenters.
Top-notch keynote speakers and topics.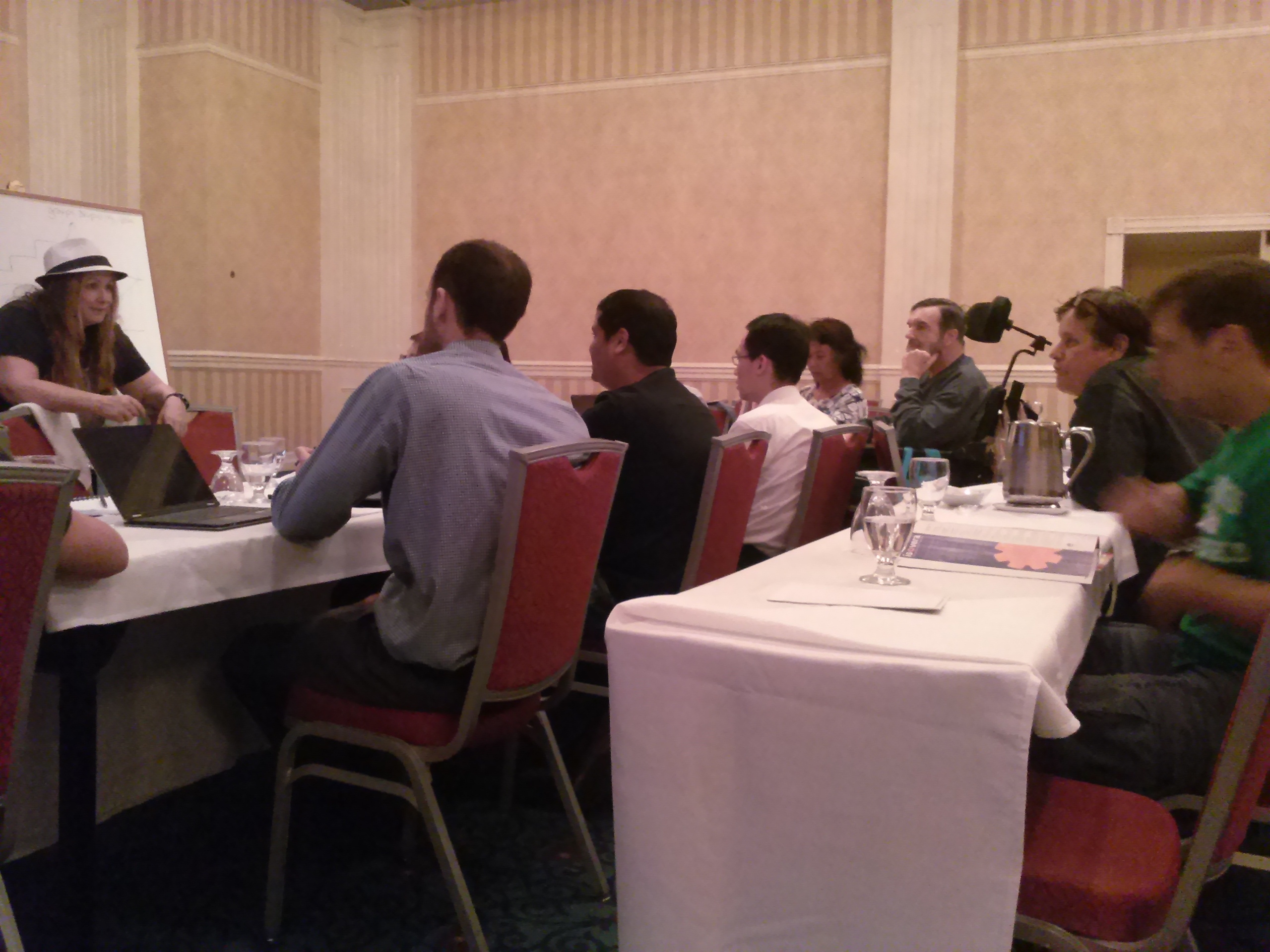 The sessions were set up specifically so that attendees would not have to change conference rooms as often - and it worked, as I heard several people make positive remarks about the schedule. GLADCamp session tracking was chosen very wisely, and lots of them contained valuable information for start-ups, non-profits and people just starting to learn Drupal. The track for advanced developers was also very rich, and well planned. Most of the sessions offered Q+A time and/or hands on learning.
See a list of all the GLADCamp sessions here: https://gladcamp.org/2014/program/sessions
To the right is a pic from the Intro to Drupal 1, 2, 3 session led by Lee Vodra a co-founder of Exaltation of Larks.  
Advanced coders had excellent choices such as:
Search API Solr Setup
AJAX and jQuery with Drupal: Loading Nodes into the DOM without Reloading the Page
Advanced Views
Responsive Layouts with Omega4, SingularityGS and Breakpoint
The Symfony Way
Beginners and non-coders had choices such as:
Drupal Install Fest
Intro to Drupal 1, 2, 3 - Two Hour Session
Introduction to Views in Drupal 8
VoipDrupal - Your Site and a Regular Phone
Estimation for Drupal Projects: Reducing Uncertainty & Defining the Client Relationship
As FreeScholar, I presented two sessions - my first was tracked in "Business, Strategy & Case Studies" and was titled: "Drupal Community - The big picture - How do I earn $". This session was mostly a discussion around ways of forming a collective of Drupalists that take on projects that suit their goals and ideas. As a collective people can determine the best way to divide and use their 'collective' profits to fund causes that are near and dear to their hearts - such as FSF.org and EFF.org.  My second session was on VoipDrupal, a suite of modules developed at the MIT Media Lab by Dr. Leo Burd and a team of developers. The session was titled "VoipDrupal - Your Site and a Regular Phone", and it was tracked in "Site Building & Using Drupal".  VoipDrupal allows your website to interact with a regular telephone using a VOIP telephony service. This session was an overview of the core VoipDrupal modules and a live demonstration of the conference calling on the fly feature, some people caught up with me between the next sessions and were actively interested in using VoipDrupal on their current Drupal projects.
A fantastic time was had by all! Pasadena Media captured the whole GLADCamp event and will be incorporating the slides into the footage of the sessions. Of all the sessions, the Barn Raising was one of the MOST impressive. Pasadena Media was the recipient of the effort and they were gifted with about 15-20 developers/designers collaborating on the start of a Drupal 7 site that now has content types and some roles defined along with some custom menus - all created using Drupal's Best Practices!.